"Let the speed be that of the wind, and be compact like a forest."
A 5-in-1 ironing line
Who said that a high productivity industrial ironing system requires a large space?
Compact PRO is proof that a high-quality and highly productive ironing system can also have a small footprint. In just 20m2 (215sq.ft), a single machine integrates 5 functions: Feeding, drying, ironing, folding, stacking and collecting. It quickly and efficiently processes bed and table linens with superior results.
In addition, the Compact PRO can be easily installed in spaces with difficult accessibility. Its modular structure allows quick and easy assembly.
Compact PRO
without stacking

Compact PRO
right side stacking
Compact PRO
left side stacking

Compact PRO
feeding clamps & de-creasing brushes

Feeding
Drying
Ironing
Folding
Stacking / Collecting
Smart Laundry, in action
Working with Compact PRO is easy. Different functions of the machine facilitate ease-of-use and final, high-quality results.
The Smart Touch Strap system prevents marks on linens and ensures ítems remain in contact with the surface of the roller longer for high-quality results.
Autospeed mode keeps the ironing temperature constant and stable by automatically adjusting the speed of the ironer. It allows damp linens to be processed straight from the washer without dryer preconditioning. This improves ironing productivity. Finally, the Smart Heat intellegent burner cuts energy consumption by 30%.
The surface of the Compact PRO's vacuum feeding table is extra wide. The vacuum holds linen in place and then the Compact PRO spreads the linen to avoid wrinkles during ironing. One person can load oversized linens. A dewrinkling brush system spreads linens for a flawless final finish.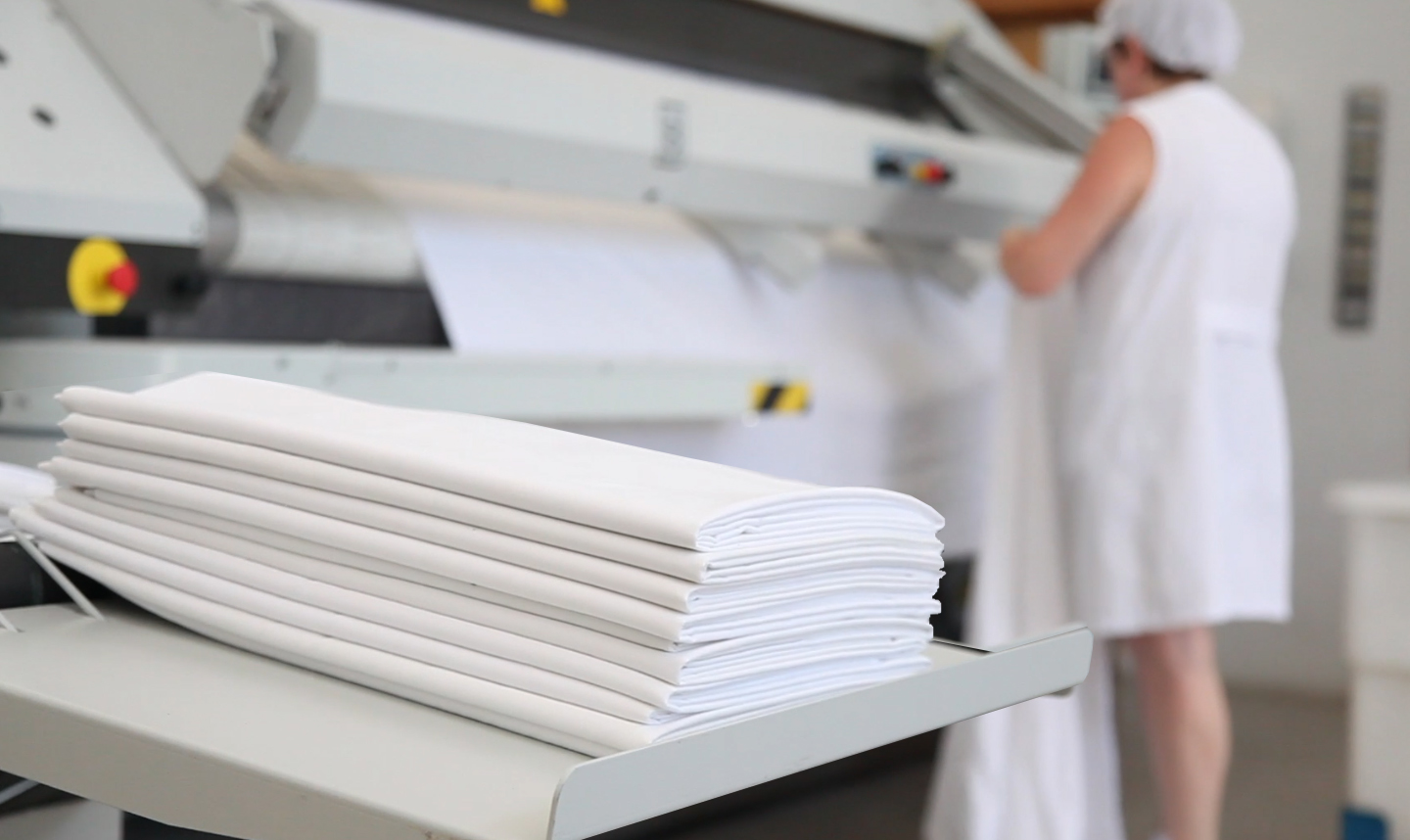 Compact PRO can be configured for 1, 2 or 4 lanes, with 1 lane for sheets, 2 for tablecloths and 4 for small ítems, such as napkins or pillowcases.

From 1 lane, the Compact PRO performs two primary (lengthwise) folds and two or three cross-folds. From 2 lanes, it performs one or two primary (lengthwise) folds and one or two cross-folds.
In both folding and stacking, different options can be selected to fully adjust the Compact PRO to your needs.